Valorant Ping fix Philippines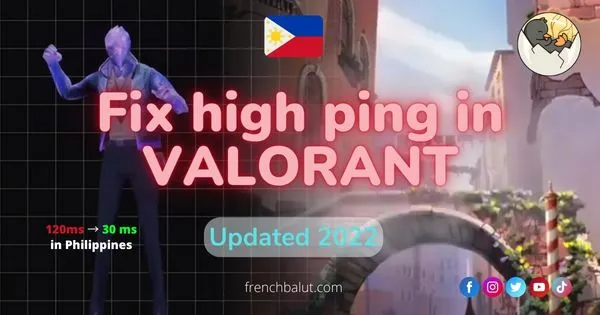 Ultimate 2022 guide written by streamer FrenchBalut to reduce Valorant ping and increase performance of any computer located in the Philippines.
Whether your Internet Service Provider (ISP) is Converge ICT Solutions, SKY Cable, PLDT, or Globe Broadband, FrenchBalut shares its free tips and tricks to increase the performance of your computer (desktop or laptop) and above all reduce the ping on the servers Valorant.
In the Philippines, the closest Riot Games servers for the Valorant FPS video game are those in Hong Kong and Singapore, but in this guide we will focus instead on optimizing Windows operating system performance and reducing latency for servers located in Hong Kong.
How to fix high ping in Valorant: step by step guide
High latencies are perhaps one of the most annoying issues an FPS gamer can face while playing multiplayer video games. Not only does this hamper your ability to perform well in intense combat, but it also takes away your real skill in any multiplayer title.
Valorant is one of the hottest tactical shooters right now, and it's crucial for Filipino players to have latencies as low as possible for consistent gameplay. If you're having high ping issues in Valorant, you've come to the right place.
Today, FrenchBalut is going to help you take a look at what you can do to fix your ping issues in Valorant in the Philippines or just reduce in-game lag.
Check if a high ping is coming from your ISP
First, make sure your ISP (Internet Service Provider) is not causing the problem. If so, try upgrading your internet plan to a plan that offers more speed. You may also consider switching ISPs if needed. Another obvious solution would be to simply restart your router, which can often solve your latency issues to a great extent. Restricting background apps is also not optional for your ideal gaming experience. Any application that runs in the background during gameplay can hamper your in-game latencies. At the start of any game, open your task manager (CTRL+SHIFT+ESC) and close any unnecessary processes that might use internet speed. Next, you need to reduce the number of connections on your router. For example, if you have three phones in your house connected to the router, your internet speed can be seriously impacted while gaming.
Get a high-speed internet plan (FrenchBalut have PLDT Unli 600 Mbps for ₱ 2899;
Correct your WiFi router settings (FrenchBalut recommends the ROG Rapture GT-AX11000 router);
Limit the number of active clients on your WiFi;
Set Valorant to High Priority in Task Manager.
Right-click on the Windows taskbar, select "Task Manager", go to the "Details" tab, find and right-click on VALORANT-Win64-Shipping.exe, then set the priority to "High" . Look for "VALORANT.exe" and also set the priority to "High", complete the operation by closing the Windows task manager.;
End all background processes and tasks.
How to LOWER PING in Valorant! (Reduce Latency Guide) Guide for 2022
*Note: The steps that follow will modify certain parameters of your computer, FrenchBalut advises you to read the documentation for the various features and software mentioned in this guide before you start. FrenchBalut cannot be held responsible for the use and settings you make of your computer.
Create a restore point on Windows before continuing the guide:
Type in the Windows search bar "Create a restore point", click on create and name the restore point, for example "Before Ping optimization". Once it's done, remember to connect to Valorant with an ethernet cable and not Wifi (Wireless connection).
Check DNS servers
Type CMD in Windows, run it as administrator, then type the "Ping" command followed by your DNS server.
Example with Cloudflare's DNS "Ping 1.1.1.1";
Example with Google's DNS: "Ping 8.8.8.8".
You just need to compare the DNS with the lowest ping. You just need to compare the DNS with the lowest ping. To apply the correct DNS you need to play Valorant in the Philippines, right-click on your connection icon and click on "Open Network & Internet settings".

Continue by clicking in the menu on the left "Ethernet", and on the right "Change adapter options". Right-click on your Network adapter and select "Properties". Look for Internet Protocol Version 4 (TCP/IPv4) and click on the "Properties" button. At the bottom, check the checkbox "Use the following DNS server addresses. If like FrenchBalut you had a better ping with Cloudflare thanks to the command prompt of the previous step, please indicate in "Preferred DNS server" 1.1.1.1 , and in Alternate DNS server" 1.0.0.1. Tick the checkbox "Validate settings upon exit" and click on the OK button. A restart of your computer may be necessary.
Firewall & network protection
As in the previous step, search in Windows for "Firewall & network protection", then click on "Allow an app through firewall", click on the "Change settings" button, which will activate the bottom button called "Allow another app …" and click on it. Click on the "Browse…" button and find the RiotClientServices.exe executable file located in your Riot Games folder (C:\Riot Games\Riot Client), click on the "Add" button. This step ensures that your Valorant game doesn't get throttled by any internet protections that might be in place.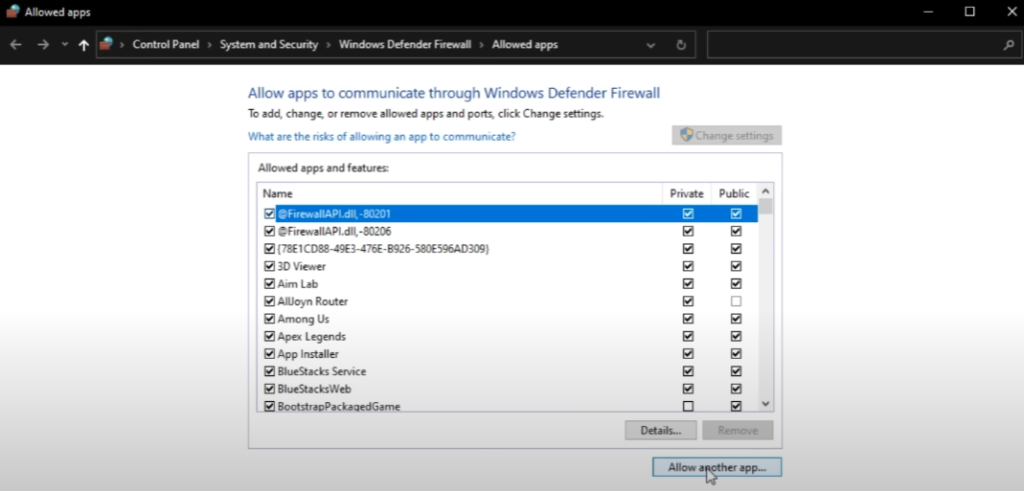 TCP Optimizer
Now we are going to download and install free software that will allow you to optimize your internet connection, it is TCP Optimizer. Once downloaded, run it as administrator.
Slide the connection speed bar all the way up to 100 plus megabits per second;
Look at the network adapter selection and click on the drop down and select your network adapter;
Click on the "Advanced Settings" tab, at the bottom of your screen or need to tick the "Custom" checkbox, this will unlock all the options displayed. You can take an example of the configuration of FrenchBalut using the image below:
You can click on the "Apply changes" button, a window will appear, I recommend that you tick the "Backup" checkbox in case you want to find your initial configuration. You will need to restart your computer for the changes to take effect.
Flush Your DNS
Your temporary network files can cause problems, so cleaning your files can often fix the problem.
As in step 1, open the command prompt again and run it as administrator;
If asked whether to allow Command Prompt to make changes to your computer, select Yes;
Type "ipconfig /flushdns" and press Enter;
Type "ipconfig /registerdns" and press Enter;
Type "ipconfig /release" and press Enter;
Type "ipconfig /renew" and press Enter;
Type "netsh winsock reset" and press Enter;
Restart your computer.
For Chrome users
You should know that even if you close your Chrome browser, the browser keeps running in the background thus it eats up memory and also uses internet and slows down your game, and also make your ping higher. So for this step, we're going to stop Chrome browser from running in the background.
Go to your Chrome Settings;

In the left menu, click system;

and turn the option "Continue running background apps when google Chrome is closed" off.
Useful information
Remember to regularly update your version of Windows with the Windows Update service, to regularly update your peripherals and graphics card. Also remember to do a weekly spyware scan, FrenchBalut recommends SpyBot or ZHPCleaner which are freeware.
There are other possibilities for ping, FPS and input lag optimizations but it would be too long to list, however you can always ask FrenchBalut for advice when he is streaming or on his Discord server.
Visit and follow the FrenchBalut Twitch stream, and join the Discord of the gaming community in the Philippines.