TOP 10 FILIPINO STREAMERS IN 2022
FrenchBalut, the trending Twitch streamer in the Philippines, brings you the top 10 Twitch streamers to watch on Twitch.tv. The goal of this article is not to highlight the already very popular streamers who do not necessarily need more visibility. But to highlight 10 Twitch streamers who at the same time entertained thousands of Filipino viewers.
Discover the list of the 10 best streamers in the Philippines 2022 who have the merit of existing and who have a real passion for streaming.
This initiative is graciously offered by the streamer FrenchBalut, this list is not exhaustive, and therefore may evolve over time.

Here are the Top 10 Filipino streamers 2022 to watch absolutely!

1) FrenchBalut
A new streamer, but already a Twitch affiliate, and a big dose of motivation. The particularity of this streamer is that he is not Filipino, he is a Frenchman from the Philippines, he is learning Tagalog with his friends and viewers.
He hasn't revealed his identity yet, he plays video games such as Valorant, League of Legends, Fortinite, Mobile Legends, Wild Drift, Phasmophobia, Resident Evil Village and many more.
2) Krizzyboots
A new streamer with 587 followers, but already a Twitch affiliate, beautiful and funny. Has an amazing collection of Valorant skins, game she plays very well! This filipina play also The Sims 4, Minecraft, and want to learn more about League Of Legends, so help her to become a legend.
She regularly streams "Just Chatting" sessions on Twitch, which allows her and her viewers to have a friendly and relaxing time. She always has her webcam open.
3) Centinaplays
A new streamer with 1,1 k followers, Twitch affiliate, you can call her Cen. She like to hang out with her friends and viewers online. She love to play Valorant, GTA 5, and also play survival adventure games like Raft and The Forest. She has a preference for calm and cute games like Stardew Valley, Unpacking. She has a great experience in streaming and does not hesitate to help new streamers to configure their Twitch channel or their Discord server. Always present to celebrate the successes of his community.
This Filipina is a caring Twitch streamer, she is a must-follow.
4) Maximillions0
A new filipino streamer with 1,7 k followers, already a Twitch affiliate, very kind and welcoming. Max replies to every message on his Twitch chat, and likes to organize tournaments. This Filipino streamer likes to spread positivity on Twitch, he is definitely a streamer to follow and play with.
Usually it streams almost every night around 9PM Philippine Times of course!
5) DarkTasi_
A new streamer with 2,7 k followers, affiliated Twitch, you can call her Tasi. Besides being a filipina gamer, she likes doing digital art and also do Emotes. She usually play MOBA (League Of Legends), FPS games for fun, but she is platinum 2 on Valorant! She also play Elden Ring and Internet Cafe Simulator 2.
She was selected in the TOP 10 filipino streamers 2022 by FrenchBalut, because she shows daily the spirit that a Twitch streamer must have. She deserves you to follow her!!
Directory of active streamers in the Philippines
Are you a streamer and want to boost your Twitch channel?
You can create an account on frenchbalut.com to promote your channel for free!
Link: Directory of active streamers in the Philippines
6) PoisonAivie
A new streamer with 1,5 k followers, affiliated Twitch, you can call her Aivie (Ivy). Don't be fooled by her streamer name, this Filipina is a mix of toxicity and kindness. She mainly likes to stream Valorant, accompanied by her dog named Keanu. She is beautiful and sexy because she has a particular interest in singing, dancing, fitness, music, photography. She mainly plays Valorant, but organizes live karaokes, and "Just Chatting" Twitch session. A charming Filipina streamer who does not leave many viewers indifferent, FrenchBalut included! Follow his Twitch channel to show your support.
7) AskKuyaMike
A new streamer with 1,3 k followers, affiliated Twitch, you can call him Mike. Besides being a filipino gamer, he likes to play JRPGs, especially from the "Tales of" Series, and I also enjoy playing Mario Kart, Splatoon and Super Smash Bros. He also play Lost Judgment, Dead by Daylight, Destiny 2, and Pokemon Legends: Arceus.
She was selected in the TOP 10 filipino streamers in 2022 by FrenchBalut, because he shows daily the spirit of cohesion and mutual aid that Twitch streamers and viewers greatly appreciate.
A streamer Twitch to follow without hesitation!
8) Pangesal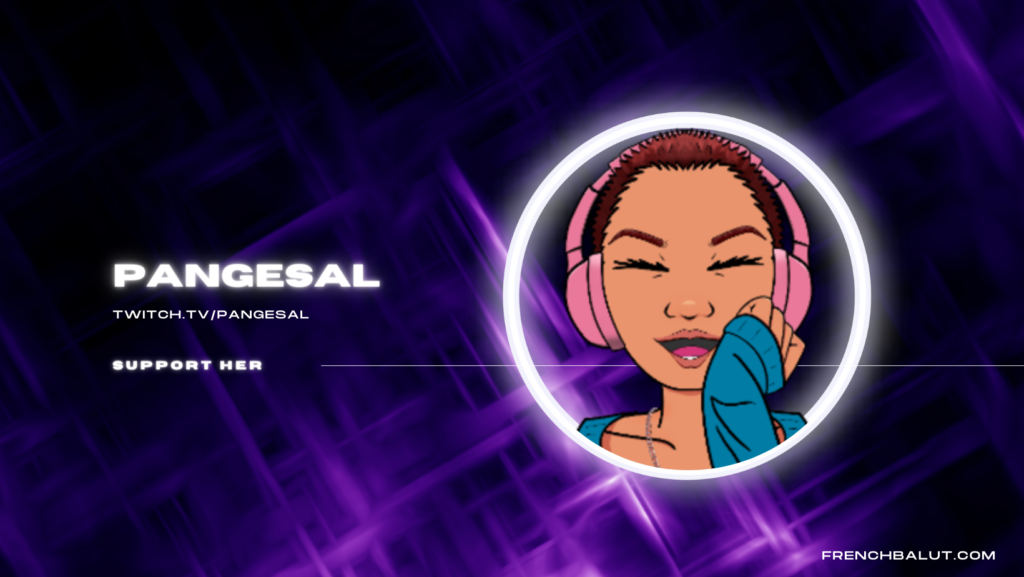 A new streamer with 658 followers, affiliated Twitch, you can also call her Ange. This filipina gamer, like to play Valorant, Apex, L4D2, and Phasmo. Always in a dynamic and friendly mood, her community loves her and she knows how to give back to them.
She was selected in the TOP 10 filipino streamers in 2022 because her name came up several times by subscribers of the FrenchBalut Twitch channel. This Twitch streamer deserves to be known both for her chaotic gameplay as she says, but also for her good humor.
Dear readers, follow this stream!
9) JanjiiPlays
A new streamer with 534 followers, recently affiliated Twitch, her name is Janjii. This filipina gamer, like to play Valorant, smiling and welcoming, with her cute look, she does not give gifts to her opponents in Valorant. She is really talented, because she is Platinum! Likes to play with his viewers whether in unrated game or in competition (Esport).
If you want to play with an experienced gamer, she is the one to play with.
10) DancingCorgi
And here is the last Twitch streamer selected in our TOP 10 Filipino streamers to discover in 2022, it's Corgi! He likes to play a variety of games ranging from FPS to Rhythm Games. I also love playing horror games. In addition to being a confirmed gamer, he is an artist, he likes to play the guitar. As an experienced Content Creator, he likes to play with his viewers with a friendly and competitive spirit.
Enough reasons to follow him, right?!
Conclusion
To conclude, there are a number of streamers who contribute greatly to the entertainment of thousands of gamers and we had to thank them. This article is an initiative of FrenchBalut to thank the actors of the Filipino Twitch Game.
Note: One of the best ways to support a Twitch streamer for free is to show him your presence on the chat, to follow him, to use the !lurk command and/or to share his channel with your contacts or on social networks.