As Sova says in Valorant: "We are strong because we are together. Don't forget that". This article will let you know how to become a VIP within the FrenchBalut Twitch channel. Here is a project that will reward the most loyal and active Viewers/Friends in the quest for partnership with Twitch.
Your Sir Balut will allow 20 viewers to earn the badge and benefits that come with the VIP status!
In already 2 months of streaming, the channel has received several raids, full of !lurk, full of bits, full of shares and reactions, and it's amazing! Thanks to your involvement and loyalty, the FrenchBalut channel was even recently affiliated.

It is therefore normal that French Balut can reward you for your loyalty and the commitment you show at each stream.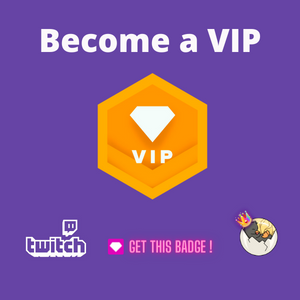 A prestigious and selective club
The FrenchBalut VIP club can only contain a maximum of 20 slots.
Help, support and selection is up to you.
There is no need to pay to become a VIP, everyone has a chance.
This VIP Club is not for those who don't care about partnership and the advantages it would offer to the FrenchBalut channel.
Why join the VIP club?
In addition to supporting Sir Balut during these streams, having VIP status gives you many advantages:
Get the VIP badge (Diamond 💎) on the channel's Twitch chat. (It's the only way to get a 3rd badge);
Have the Discord "VIP" role;
Full access to the private VIP channel on Discord;
Have access to exclusive sound controls (under construction);
Allows you to protect yourself from automatic timeouts (slow mode and emotes only in the chat);
Allows you to share links (URLs) in the channel's Twitch chat.
These advantages are kept for life during the Partner passage unlocking other bonuses for VIP Club members leading to 10 advantages:
Transfer of 75,000 Balut Coins (Channel Points);
Dedecace private video from FrenchBalut for each VIP;
And a Secret Bonus/Gift…😉
How to be selected?
To have a chance of being selected as soon as a new month begins, you must:
Be part of the first 20 in the monthly ranking of viewers;
Must be an active member of our Discord;
Stay active in supporting FrenchBalut, otherwise lose the role the following month during the ranking review.
You will be contacted by FrenchBalut himself or by one of his moderators, to notify you that you are eligible to become a VIP and to explain all the advantages of this status.
In conclusion, if you appreciate the efforts, contents of sir Balut, you can join this ambitious project and let's give a big boost to our community of gamers and streamers in the Philippines!
Note: For more information, you can consult the official Twitch guide to chat badges.