Valorant lexicon Valorant
If you are new to the world of competition, or simply to FPS, it is possible that the vocabulary used by Valorant players is sometimes unknown to you. Whether you're in the Philippines or elsewhere, there are plenty of (worldwide) genre-specific terms left over from the Counter-Strike era, and understanding each of them will allow you to follow a game's competition as well as be more effective in your teamwork.
FrenchBalut has separated the different terms into several headings. We advise you to read them all at least once to familiarize yourself with this vocabulary. Welcome on the Valorant lexicon!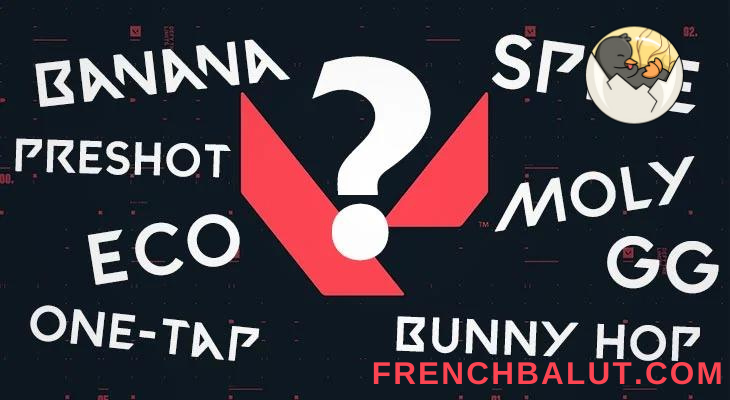 Strategy
Backup:
Asking allies to join you in order to help you in an unfavorable situation, usually to regain the numerical advantage.
Camper:
Stay in a certain position without moving to wait for opponents.
Eco:
Agree to play a round with a minimum of equipment in order to save credits for the next rounds.
Make a CPL (Snap):
Trigger the chosen strategy on a site. The team, which was silent, triggers the strategy at this time by casting spells to burst into the enemy. The term "CPL" refers to old competitions on Counter-Strike, decades ago.
Force Buy:
Buy the best possible equipment according to its current credits, even if the economic situation of the team is not favorable.
Full:
Buy the best equipment possible, be it in terms of weapons, armor and skill.
Hide:
Hiding behind an obstacle or scenery to wait for opponents, usually to surprise them or collect information.
Opening:
Opportunity to enter an area, whether created by a skill or an opponent's death.
Retake:
Regain control of a given area, usually a Bomb Point.
Rotate:
Move from one point on the map to another where you would be more useful.
Rush:
Penetrate a given area in a coordinated manner very quickly in order to surprise opponents.
Save:
Attempt to stay alive at the end of a round in order to save equipment for the next round.
Slow:
Entering an area very slowly, relying on opponents' impatience or mistakes to punish them.
Items
AWP/OP:
Very long-range Counter Strike weapon, usually capable of killing with one bullet. Refers to the Operator in Valorant.
Kevlar/Armor:
Armor that allows you to take more damage.
Spike:
An explosive device that Attackers must place at an explosion site to win a round.
Fight
Exit Frag:
Kill an opponent trying to escape, usually after planting the Spike or before it explodes.
Headshot (HS):
Shoot in the head, usually killing the player instantly.
Niceshot (NS):
Headshot, usually killing the player instantly, while performing a particular move. Often similar to LS (luckyshot).
One Tap:
Kill an opponent with one shot or a single shot.
Preshot:
Start shooting while staggering, anticipating an opponent's position.
Spray:
Firing continuously, despite weapon recoil and loss of accuracy.
Wallbang:
Bounce a projectile like a grenade or an arrow against a wall in order to target certain places without putting yourself in danger.
Action
Defuse:
Action to defuse the Spike.
Incendiary:
Warn that an ally or an opponent has used a projectile to create a hostile area on the ground (usually an area doing damage). Also calls AoE for "area of effect" in some MMORPGs.
Moly:
Warn that an ally or an opponent has used a projectile to create a hostile area on the ground (usually an area doing damage). Also calls AoE for "area of effect" in some MMORPGs.
Nade:
Warn that a grenade or any other explosive projectile has been thrown, whether it is a friendly or enemy grenade.
Plant:
Action of placing and activating the Spike on a Bomb Point.
Smoke:
Prevent an ally or opponent from deploying a smokescreen.
Places/Areas
Banana:
Tortuous access to an area, whether curved or encumbered by decorative elements.
Bomb Point (BP):
Area in which the Spike can be activated. This zone is always delimited by a marker on the ground.
Connector:
Transversal access between two Bomb Points.
Long:
Longest access to an area, usually a long hallway.
Mid:
Intermediate access to an area, longer than the Short, but shorter than the Long.
Short:
The shortest access to an area, usually a small hallway.
Window:
Opening in a wall that offers an unobstructed view of an area below.
Information
1 HP:
Warn your allies that your last opponent left the fight after taking enough damage to die in a single bullet.
Contact:
Spot an opponent visually.
Cooldown (CD):
Delay before using an ability, whether in time or in points.
Info:
Ask a teammate for information about their current situation, usually what they know about the positioning, hit points and equipment of the opponents.
Sound:
Identify an opponent by the sounds he makes.
Stab:
Being killed by an opponent in the back, usually when the opponent has bypassed your squad.
White/Flash:
Being affected by a flash grenade or any other effect that completely blocks vision.
Movements
Bunny Hop (BH):
Technical move to move faster using jump physics.
Boost:
Asking another player to help you reach a position that you cannot reach alone, usually at height.
Strafe:
Move laterally.
Counter Strafe:
During a strafe, press the opposite direction to cancel the move and decrease accuracy loss.
Patch
Buff:
Improve the performance of a character, weapon or mechanic.
Balance:
Overall balance of the game, a character, a weapon or a mechanic with respect to the other characters, weapons or mechanics.
Datamine:
Data extracted from the game's official source code.
Leak:
Information about Valorant known by unofficial means
Nerf:
Decrease the performance of a character, weapon, or mechanic.
Others and Miscellaneous:
Ace:
Kill all opposing players without losing a single one of your teammates.
Aim:
Action of aiming very precisely at a place or part of an opponent's body.
Clutch:
Win a round or game that seemed lost.
GG:
Which means "Good Game" is what we like to hear at the end of the game. Have sportsmanship!
WP:
Which means "Well Played" is what we like to hear at the end of the game.
Kit:
Set of abilities and particularities of a character.
Spawn point:
Precise point where a player appears at the start of the game.
Skill:
Synonym of abilities.
Spell:
Synonym of abilities/skills.
Stuff:
A player's set of equipment, including their weapons, shield, and skills.
Team Kill (TK):
Kill or be killed by a teammate.
Time to Kill (TTK):
Time taken to kill a player with full health.
Ult:
A character's ultimate ability.
Conclusion
Terms and definitions may vary by country. If you have any suggestions for changes, you can reach out to FrenchBalut on the Philippines Gaming Community Discord.